Port Nikau Marine Facilities
Port Nikau is perfectly positioned in the heart of Whangarei's marine precinct, with a deep water marina located in the Whangarei Harbour (two hours drive from Auckland), 12 nautical miles from the harbour entrance, opposite the Onerahi Airport.
Marine Facilities and Servicing
Port Nikau offers berthage for a wide range of vessels, including superyachts, commercial ships, yachts and launches, fishing boats, workboats and charter vessels. Marine facilities include deepwater wharves (9m depth), floating pontoons, in-water conversion/refit, mast removal, in-water painting, diesel fuel stop, boat ramp, 3-phase power and water, covered BBQ area, shower and washrooms, laundry and wifi. Download our Berthage Pricing here.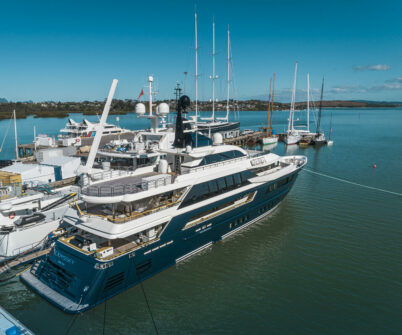 Superyachts
Port Nikau can accommodate up to five supertyachts, up to 65m, with a newly built floating pontoon set up for stern to, Mediterranean style berthage.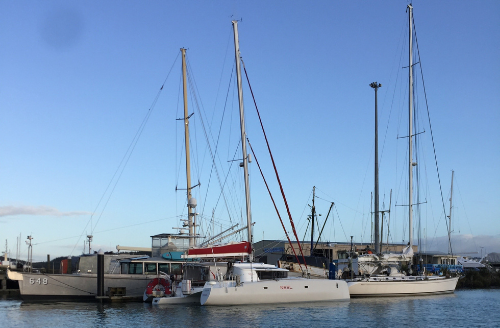 Recreational
The Eastpoint Marina has 8 floating pontoons. This facility is suited to cruising vessels with easy on/offloading and access. A leading option for vessels requiring on-water upgrades repair and servicing.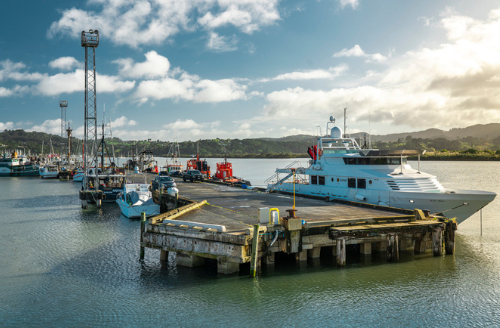 Commercial
With 670m of wharf space, Port Nikau can accommodate a wide range of vessels, including fishing boats, large commercial boats, tugs, workboats and charter vessels.
Trading Port Legacy
The marine facilities are a legacy from the days when Port Nikau was the location of Northland's trading port. The established marine infrastructure is now available for use by commercial and recreational vessels and supported by the central business district, State Highway, Whangārei Hospital, marine and engineering supplies and services all within a few kilometres.
The Whangārei Harbour channel is dredged to 7.6m at chart datum. The channel is well-lit and markers start 3 miles out from the harbour mouth. Port Nikau has multiple superyacht berths, ranging from 31m to 90m. Depth at the channel berth is 9m at chart datum and depth at the inside berth is 7m.
Berthage Registration
To register a marina berth, please complete this form and our Marina Manager will be in touch.
Marine News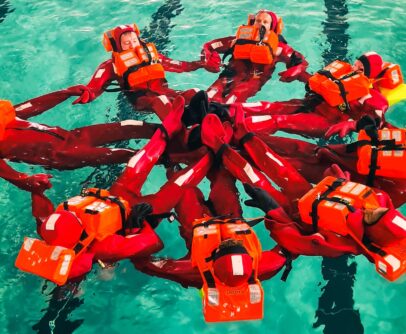 A globally-recognised maritime training qualification being offered in Northland for the first time is open for enrolments. The first intake started on 1 February and ran for seven days during which time participants have been armed with personal survival skills at sea.  Training 4 Safety is the first Northland business to deliver the training, which …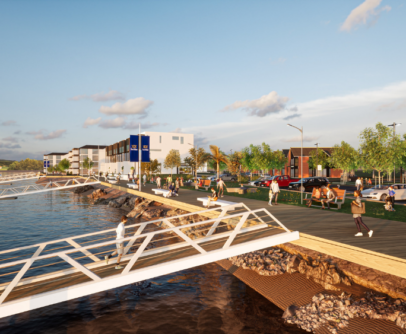 Urban planning company Construkt has partnered with Reyburn & Bryant to perfect and produce a Masterplan for the new Port Nikau development, which the Whangārei District Council has given the go-ahead. The plan will eventually provide over 1,200 homes adjacent to a harbour-side town centre, in the 67ha of former port land to create genuine …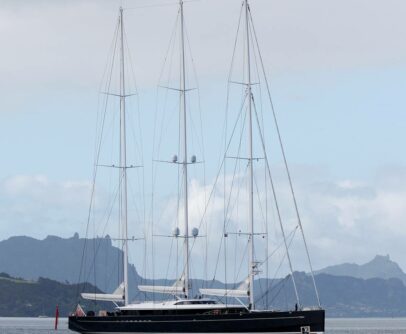 In April this year, the world's largest aluminium yacht arrived in the Whangārei Harbour. The triple 62.5m high mast Sea Eagle II has been moored at Port Nikau since finishing off her maiden voyage and sea trial all the way from the Netherlands. Sea Eagle II's arrival caused a touch of concern when its 62.5m …